Jacksonville Packing Specialists!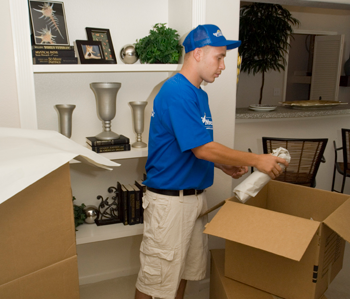 Are you due to move and have no time to pack up your house, apartment, town house or condo? Don't stress—leave the packing to the experts!
Day or Night Movers offers affordable packing services to help you prepare for your big move. Whether you are moving down the street or relocating across the state, you can rely on our experts to pack your possessions securely.
Everything You Need
Whether you want to pack everything yourself or you order moving packing help in Jacksonville, we have all of the supplies that you need!
Small Boxes: Perfect for books, DVDs and breakables.
Medium Boxes: Stack pots, pans and other housewares in this easy-to-carry size box.
Large Boxes: Ideal for light items including linens, pillows and plastic bins.
Bubble Wrap: Protect vases and glass keepsakes from breaking.
Shrink Wrap: Keep furniture scratch-free with plastic protective wrapping.
Wrapping Paper: Newsprint sheets prevent picture frames from damage.
Wardrobe Boxes: No need to pack the closet when you can keep them hung.
Dish Packs: Heavy-grade cardboard designed to hold more dishes.
Mirror Boxes: Save mirrors from scratches or cracks with a protective box.
Packing Tape: Industrial-strength tape to keep boxes closed.
Tape Guns: No need for scissors to cut tape with this easy-to-use tool.

Moving soon with no time to pack? Call Day or Night Movers now to schedule Jacksonville moving packing help ASAP. We're proud to serve clients throughout Jacksonville and the surrounding areas of Baymeadows, Orange Park, St. Augustine, Jacksonville Beach, Atlantic Beach, Ponte Vedra, Palm Valley, Julington Creek and Yulee.